5-Axis Machining & Milling Services
Astro Machine Works has more than three decades of experience manufacturing custom machinery and precision parts for diverse regional and national partners. Our highly skilled team uses the latest in CNC machining and other cutting-edge practices to develop customized solutions to address any manufacturing challenges.
We offer advanced 5-axis machining services that significantly increase the range of possibilities for working with complex surfaces and creating parts in numerous shapes and sizes. Our Pennsylvania facility contains multiple advanced vertical 5-axis machining centers capable of performing precision milling and machining of complex parts.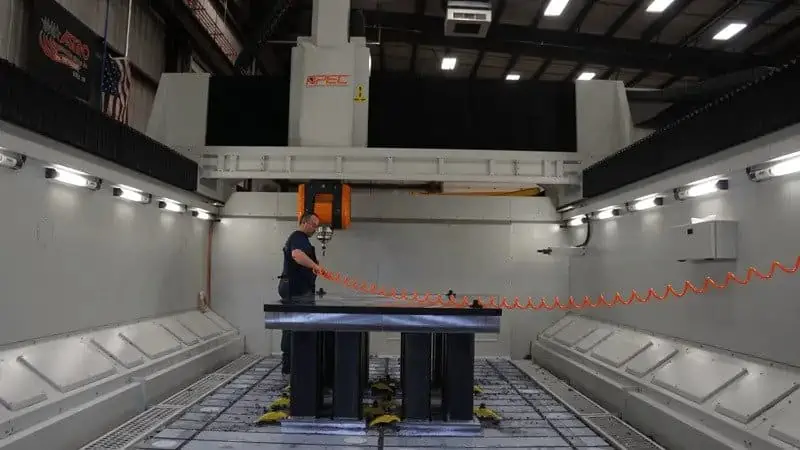 What Is 5-Axis Machining & Milling?
Milling is the process of cutting and drilling material using a rotating cylindrical tool. This tool is held in a spindle and comes in a variety of sizes and forms. With 5-axis machining, there are two extra rotary axes defined by A, which rotates around the X axis, B, which rotates around the Y axis, and C, which rotates around the Z axis. The combination of additional axes depends on the machine and comes in variations, including AB, AC, or BC.
With 5-axis machining, the table or cutting tool can be tilted, creating the ability to avoid collision with the tool holder and allowing for better access to part geometry. This also ensures improved tool life and cycle time as it helps maintain cutting position and constant chip load. This type of machining offers a push toward single-setup machining, creating shorter lead times and increasing efficiency.
Advantages of 5-Axis vs. 3-Axis Machining
While 3-axis machining has its benefits, it poses certain manufacturing limitations. The primary difference is that 5-axis machining introduces the element of rotation of the A and B axes, allowing for the quick production of more complex shapes with higher quality surface finishes. Other important 5-axis CNC machining benefits include:
Shorter lead times. The enhanced capabilities of 5-axis machines result in decreased production times, which translate into shorter lead times for your production projects.
Greater accuracy and tool life. 5-axis machining and milling offers a level of precision that 3-axis processes cannot replicate, which is crucial if your finished products must adhere to strict quality and performance specifications. 5-axis machining also eliminates the need to move the workpiece among multiple workstations, thereby reducing the risk of error.
Use of shorter cutting tools. Producing high-quality 5-axis machined parts with the use of shorter cutters reduces vibration that frequently occurs when machining deep cavities with a 3-axis process. The use of a shorter cutting tool also allows for a higher cutting speed without putting excess pressure on the tool.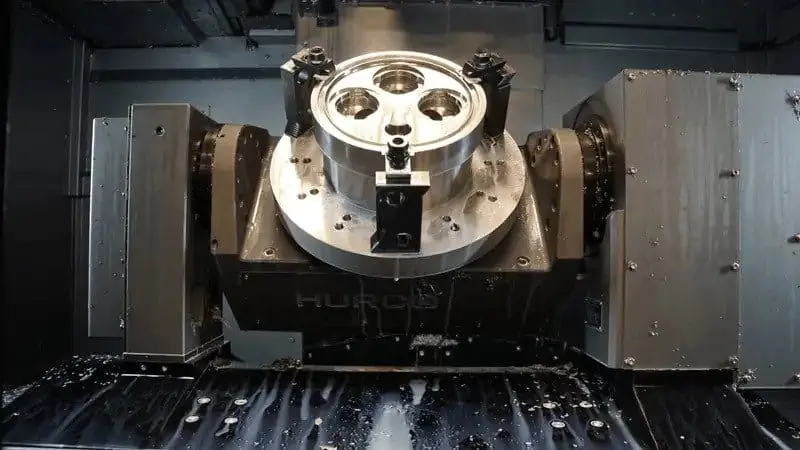 5-Axis Machining Industries & Applications
5-axis machining is ideal for applications across a variety of industries, including:
Aerospace: The aerospace industry uses 5-axis CNC machines to create geometrically challenging and intricate components that often require smooth edges, contours, interior cuts, or other finishes. 5-axis machining eliminates the need for repositioning, ensuring higher accuracy.
Automotive: With a need for a low-cost, high-volume production outlet, the automotive industry relies on 5-axis machining to produce consistent, high-quality components with precise tolerances. The industry also benefits from the versatility of CNC machining processes to create detailed pieces from a broad range of materials used in vehicle production.
Energy: Components in the energy industry are exposed to extreme environments and often play a critical role in the safety and security of site conditions. 5-axis CNC machining helps to ensure that these parts are manufactured precisely and finished to the exact specifications necessary to maintain safety and functionality.
Industrial Sector: The industrial sector accounts for a multitude of industries not explicitly mentioned here, many of which rely on the versatility, efficiency, and precision of 5-axis milling machines to create complex, detailed components.
Medical: 5-axis cutting machines aid in creating medical implants, devices, and other equipment that have to meet rigorous healthcare standards, allowing manufacturers to finish even the smallest of parts with extreme precision.
5-Axis Machining from Astro Machine Works
Regardless of the application, employing 5-axis machining and milling into your manufacturing workflow can improve efficiency and reduce costs. To learn how Astro Machine Works can help with your 5-axis machining needs, contact us today.